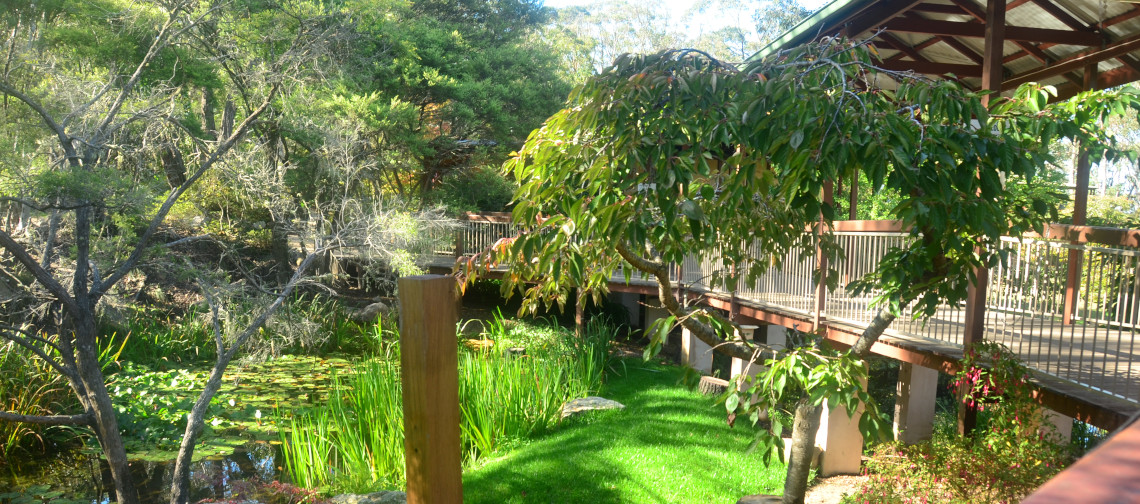 "Discover real peace and harmony within yourself, and naturally this will overflow to benefit others."
- SN Goenka
About the centre
Dhamma Bhūmi ('Bhūmi' means land or earth) is in Blackheath, a town located about 110km west of Sydney in the Blue Mountains World Heritage Area.
Blackheath sits within a network of small towns along the Great Western Highway, the main road connecting Sydney with the Central West towns of New South Wales.
---
Set on 40 acres of sloping bushland, Dhamma Bhūmi is approximately one kilometre from shops and public transport and yet protected by trees and pockets of bushland. The Megalong and Kanimbla Valleys provide a striking backdrop to its extensive landscaped gardens, and the peaceful atmosphere of the centre encourages visiting native wildlife.
The land slopes downward from the meditation hall with most of the buildings set on the flattest part of the site.
Facilities
Dhamma Bhūmi can accommodate around 100 meditators and is divided into male and female compounds. There is a large meditation hall and pagoda with meditation cells in which experienced students can work more seriously. A commercial kitchen, staffed by volunteers, provides simple and delicious vegetarian food.
There is a mixture of accommodation at the centre: single rooms, including a number with ensuite bathrooms, and some shared rooms with partitions. There is separate accommodation for those who volunteer to help run the courses.
The Vipassana Meditation Centre is a non-profit charity and is managed by a board (known as the Trust), the members of which are experienced students appointed for a term of up to two years by the centre teacher. All who serve at the centre are volunteers who have experienced the benefits of practising Vipassana meditation and wish to help others to do so.